Starbucks Canada Treat Receipt: Any Handcrafted Grande Beverage Just $2 After 2PM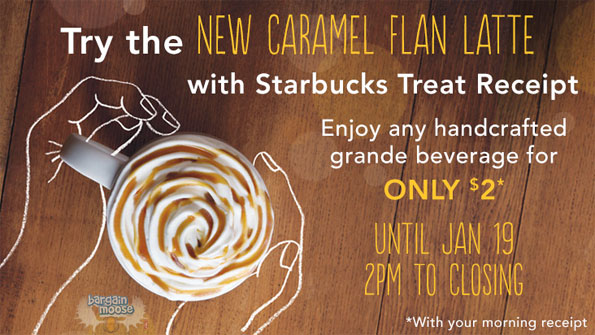 Calling all Starbucks and most importantly coffee lovers, Starbucks has released an AH-MA-ZING promotion that you surely won't want to miss! For a limited time, get any handcrafted beverage in a grande size (medium) size for just $2 every day from 2pm until closing time when you bring in your morning receipt.
I have to admit that when I first came upon Starbucks' latest promotion, the whole "handcrafted beverage" stumped me a little but the term should be taken straightforwardly, with all of their beverages available for ordering, most notably their most recent addition: Caramel Flan Latte.
A regular latte but with caramel flan syrup, caramel whipped cream and caramel drizzle on top, the Caramel Flan Latte has already gained a fabulous reputation for being a tasty variation of the all popular dessert, but as per Starbucks Melody's advice, you could also try the Caramel Apple Spice beverage with spritzes of the caramel flan syrup for a heavenly combination.
What is your go-to Starbucks drink? Will you be giving the Caramel Flan Latte a try?
(Expiry: 19th January 2014)