Starbucks Canada: B1G1 Free Starbucks VIA Iced Coffee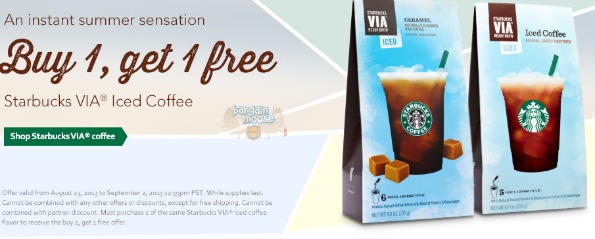 There is a great deal on right now for all of those coffee lovers out there at Starbucks Canada.  Buy one Starbucks VIA iced coffee and get one free.
There are two different kinds to choose from with this deal.  Chose either the caramel Starbucks VIA iced coffee that is priced at $6.95 or the regular Starbucks VIA iced coffee that is priced at $7.95.  Since they are different prices, if you choose one of each, you will get the lesser valued one for free.
If you decide to grab a few of these maybe to stock up on, or as gifts, every second one will be free!  My husband is a coffee nut so I think I may grab him one of each as a treat.
There is a flat rate shipping cost of $4.95.  It doesn't look like this deal is in actual Starbucks stores, so if you want to take advantage of it, you will need to take advantage online.
(Expiry: 2nd September 2013)