Starbucks Canada: ANY Grande Only $3 with Facebook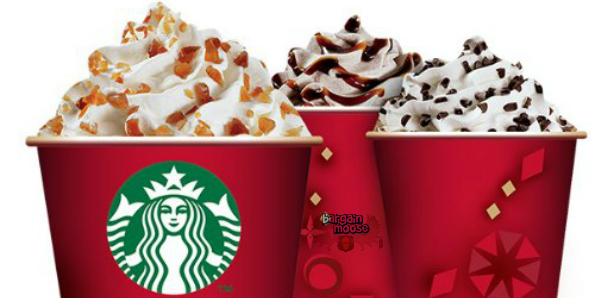 Check out this yummy deal on Facebook to get ANY Grande size drink at Starbucks for just $3! Click through the link below and claim your offer through Facebook.
When you click 'get offer,' they will send an email to the email address registered to your Facebook account with details on how to get your $3 grande drink. Really, all you have to do is show the barrister the email you receive and they will ring it through. This offer is valid for any hot or iced grande drink. You will only pay $3 + tax.
Now, the email you receive does not have a unique code on it or anything, so hypothetically this email offer is limitless until its expiry date on the 19th of December 2014. I might not visit the same Starbucks with it every single day at the exact same time - the barristers are smart people you know - but you could use this for a few nice festive drinks over the next couple of weeks.
I am not sure how much most 16oz drinks retail for at Starbucks, but any of the fancy ones are certainly well above the $3 mark. I rarely go to Starbucks because I do not budget much for eating out each month and their drinks are highly addictive! I had a friend who used to work at Starbucks and she would tell me about some of the drinks that people would order each day, that gets to be a rather expensive habit when your daily drink is $6 and you order it five days a week!
While this is not the priciest drink, one of my favourite drinks is their Caramel Apple Cider. What is your favourite Starbucks drink?
While the voucher does not expire until the 19th, I have no idea how long this offer will be up on Facebook.
(Expiry: unknown)