Starbucks Canada $0.25 Coffee Day June 12th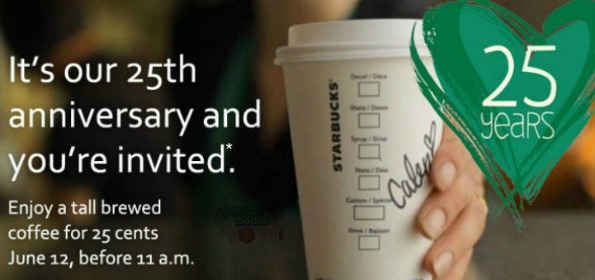 Starbucks Canada is celebrating 25 years of business with $0.25 tall sized coffees on June 12th 2012.
On June 12th 2012, Starbucks is celebrating 25 years in business and in honor of this they will have a special on their tall sized coffees.  Head into Starbucks before 11am on June 12 2012 and get a tall coffee for just $0.25.  That is a great way to start off your morning!  There is a limit of 1 per customer so if you are someone that likes to pick up a coffee for yourself as well as your friend or coworker,only the first tall coffee will be $0.25.
(Expiry: 12th June 2012 11am)