Second Cup Canada: Take 50% Off Hot Chocolate When It's Cold Outside!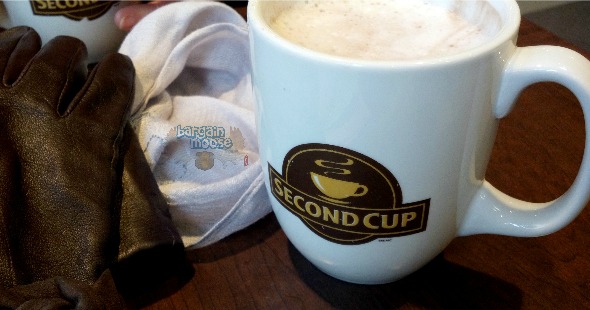 I find it funny that we complain all Winter about the cold, and then complain all Summer about the heat. This Canadian Winter does feel exceptionally cold though. Why not warm up a little bit with a toasty warm deal from Second Cup Canada? You can keep yourself warm with 50% off a classic Hot Chocolate from Second Cup when the temperatures drop below their forecast in certain areas of Canada during their Wintermission Promo.
Have you ever tried the Second Cup Classic Hot Chocolate? This delicious, warm beverage is a creamy blend of rich chocolate and steamed milk. This is the hot chocolate taste you know and love. I often crave a good cup of hot cocoa when watching movies in front of the fireplace, or when I am out and about and freezing my little tush off in this cold weather.
Until the 26th of January 2015, you can go to your local Second Cup Canada cafe when the temperatures are low enough to receive 50% off a delicious, classic Hot Chocolate of any size. A large hot chocolate will cost you $3.95 before this discount @ Second Cup. If it is cold enough out, you will pay just $1.98 including whipped cream. The temperatures required will vary throughout Canada. Also keep in mind that the required temperatures do not include wind chill.
-10 °C temperature is required for Alberta, Manitoba, Ontario (Kanata, Nepean, Orleans and Ottawa only), Quebec, Saskatchewan and New Brunswick
-5 °C temperature is required for British Columbia (Prince George only), the rest of Ontario, Newfoundland and Nova Scotia
0 °C temperature is required for British Columbia
You can choose to enjoy your hot chocolate in the warmth of the Second Cup Cafe, or bring it along with you on your adventures. For me, today could definitely be a day to enjoy 50% off hot chocolate at Second Cup. My weather app tells me that it is partly cloudy and -19 °C. Is it bad that I feel like hibernating?
The Second Cup Classic Hot Chocolate has 390 calories, which really is not bad (and totally worth it I might add). You can get the entire nutritional information on this hot cup of cocoa on the Second Cup Canada website. Be prepared to provide proof that it is the proper temperature outside to receive your savings. A weather app on your phone should do the trick.
(Expiry: 26th January 2015)