SAVE $$$ On Coffee Pods Using Reusable Coffee K-Cups *With Filters* $20 @ Amazon.ca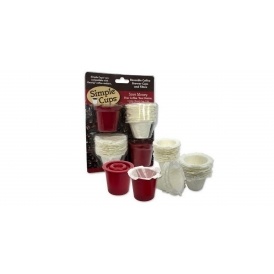 When we used to use a large carafe coffee maker, we used a coffee grinder to freshly grind the coffee beans. You get a lot of bang for your buck when you use coffee beans or even ground coffee in a bag, than compared to using K-Cups traditional style coffee pods. This here is a great Salton coffee grinder, in white, and is only $16. (The black model sells for $23!) Speaking of Keurigs we posted a great deal on a Keurig K400 Hot Brewing System just yesterday, check it out here!
K-Cups are definitely convenient and fresh! However, one way to get even more freshly ground tasting coffee from a Keurig is to use freshly ground coffee beans inside reusable K-Cups that use disposable filters. We have tried the reusable K-cups in the past, (wire mesh 'filter') but found far too many coffee grounds floating around in our coffee.
Not anymore! Included in this 'make your own K-Cups' set are 2 reusable cups, and 50 filters that will help to filter out the coffee grounds. The entire set is selling for $20, down from $25. That works out to only 4 cents per K-Cup, plus the cost of your own coffee, which will be considerably less than the typical price of a K-Cup, even when on sale!
The best thing about this is that you can save up to 80% off the cost of the K-Cups (compared to if you are purchasing the pre-made ones sold in grocery stores and on-line.)
One of the user reviews on Amazon mentions the convenience of saving space when packing up coffee for a camping trip (compared to regular K-cups.) They store the cups and regular coffee in a little baggie. What a great idea!
Shipping is free on orders over $25. Since shipping will cost more than $5 anyway, you may as well find a filler item to add into your cart to get free shipping! You could add the coffee grinder mentioned above, for $16 or if you already have a coffee grinder, maybe one of these replacement filters, for only $14 down from $20, since you are going to want more anyway?
(Expiry: Unknown)