Keurig Canada: Save $6 When You Buy Three 24 K-Cup Boxes of Flavoured Coffee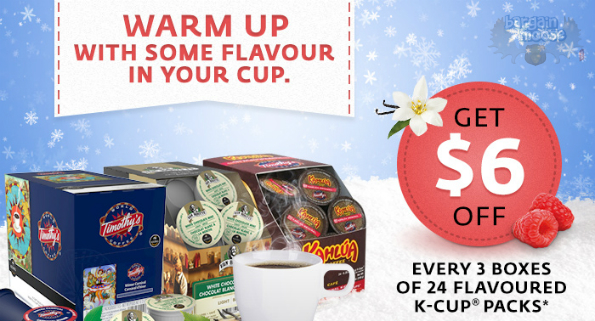 Stock up on your favourite flavoured Keurig coffee with $6 off three boxes of K-cups.
Math time! These boxes are 24 packs and generally cost $17.45. If you sign up for a free membership, you get them for $15.71 instead. At the non-member price, you save about 11%. If you get a free membership (did I mention that it is free?) then you are saving about 13%. Not too shabby, right? Regardless of member or not, you get $6 off of every three boxes of flavoured coffee you buy.
I don't drink coffee. I don't like coffee. It's gross and tastes terrible. In fact, I dislike coffee so much that I think less of you, yes you, personally, just for liking it. Vile elixir. But a bunch of people seem to like it so BargainMoose will continue to bring you deal like this one. Something that I have not tried is flavoured coffee. I have to imagine that your cup of dirt-water probably makes it easier to choke down so maybe one of these days I'll pick some up. That being said, I know a lot of people who drink flavoured coffee almost exclusively. My sister-in-law, I think, only has regular coffee in her K-Cup carousel for when her parents come over and want regular, boring coffee.
Keurig is convenient and easy but I think the real selling point for a lot of people is the variety and flexibility. If you want regular coffee, you can brew a cup. If you want to switch to decaf, you just pop in a different K-Cup. Another flavour? Another K-Cup. You don't need to dump out half full pots of cold coffee. I remember the gooey dried coffee at the bottom of the sink from when my mom used to pour out the old coffee.
Shipping is free once you spend over $45.
(Expires: 30th January 2014)