Just $5 USD for a $10 USD Starbucks Gift Card @ Groupon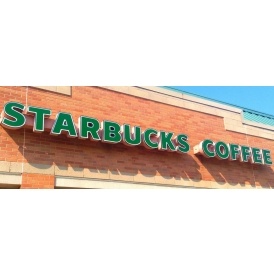 **Bump! This offer is back again - and is available to everyone!**
Groupon has brought back their deal for Starbucks eGift cards. If you buy a $5 USD Starbucks gift card, you'll receive a $10 USD one! You can't load it right to your Starbucks card though since it is a US deal, you must print out the eGift Card and use that to either buy a Starbucks Gift Card or use it to purchase your desired items from Starbucks.
I have called two different Starbucks Canada locations to confirm that you can in fact use this voucher at Canadian Starbucks and Teavana locations. While this is from the US Groupon website, you can print the emailed voucher and bring it into your local Starbucks to use as is or convert it into a gift card. You cannot upload the amount to your Starbucks card via email. The Groupon site says that there is a limited quantity available. If you want one of these Starbucks eGift cards, don't wait until later in case they sell out. There have been over a hundred thousand Starbucks gift cards bought already at the time of writing this post.
This is always a super-popular deal from Groupon, and they usually sell tens of thousands of these deals. It's handy because everyone knows Starbucks, and most people probably live pretty close to a Starbucks location, and these Groupons can be used anywhere. I've bought it many times in the past, very useful for some cheap hot drinks!
You will receive a digital voucher, so you don't have to worry about any shipping or handling fees for this purchase. You can use this offer to try one of their new Holiday beverages, especially with the BOGO offer we blogged about recently. The new Holiday beverages include the Chestnut Praline Latte, Peppermint Mocha, and more. You can use it all in one shot or spread it out for multiple visits to Starbucks Canada.
Here is a comment from one of our Moosers, which may help you with how to use this voucher:
You should be able to add it to your canadian account – you just cannot have 2 different currencies on the same Starbucks card. If you add another card to your account and then transfer the USD balance to that empty card it should work fine. then you should be able to convert the USD to CAD using the app – if you have issues call Starbucks and they will do it over the phone.
I have never personally used that method, but for a discount like this it is definitely worth a shot. Keep in mind that the prices are USD - so the promo says you are getting a $10 gift card for just $5, but in all actuality you are paying $6.63 CDN for a $13.27 CDN gift card. Make sense?
(Expires: 1st April 2016)