Small Iced Coffee Only $1 @ Tim Hortons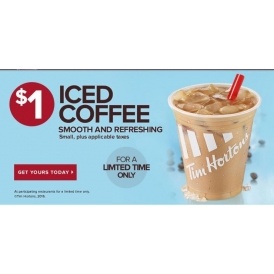 I'm not going to lie. I gave up caffeine on a daily basis a few years ago, but every now and again, something this awesome just beckons to me and I can't resist! The Tim Horton's Iced Coffee is one of those drinks that keeps me coming back, and right now you can get a small Iced Coffee for just $1!
I sometimes indulge in a little treats like this if I'm having a bad day at work, or having a tough day with the kids. Maybe I just need a boost, and this is one of the perfect, most simple, yet satisfying 'rewards' I can think of having. Such a nice little treat on a sunny afternoon.
In any event, this is a deal a person can enjoy over and over again, because it is only $1! This offer is only available in store at participating Tim Horton's, for a limited time. From experience, I haven't been to a single Tim Horton's restaurant that doesn't participate in their promotions—have you?
Tim Horton's is beckoning to me—to Timmy's I go! Enjoy your Iced Coffee!
(Expiry Date: Unknown)