Burger King: Small Coffee is Just $0.25 Every Day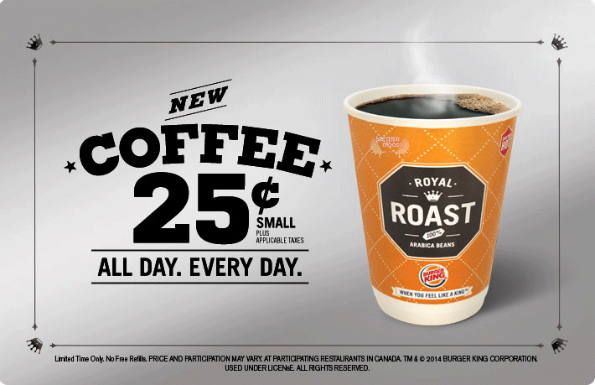 For a limited time you can enjoy small coffees for just $0.25, every day at Burger King restaurants.
Got a quarter? Then you can get a coffee! Seriously, what can you buy for a quarter these days -- even pay phones (if you can find one) charge 50 cents for a phone call now. But at Burger King you can buy a small coffee with your quarter, or treat yourself and three friends for just a loonie (plus tax)!
I know other restaurants like McDonald's often run free coffee promos, but while you're waiting around for another one of those, why pay more than you have to? This Burger King offer is available at all participating Canadian locations right now. Though it's worth noting that the fine print of the offer states that "price and participation may vary."
The discounted price is valid on a small-sized coffee only, no refills. Burger King has improved their coffee with a new premium blend of 100% Arabica beans, so if you weren't a fan in the past it's a small investment to see if you like the new flavour! And if the cheap coffee isn't enough to make it worth your while, you can also get a coffee-muffin combo for $1.59 right now.
(Expiry: Unknown)