Zara: Summer Dresses & Skirts Only $20 (FS @ $50)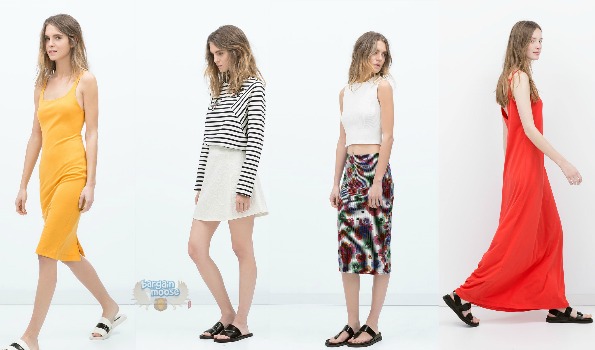 Zara has a nice selection of dresses on discount for only $19.90. While the original price is not available, similar dresses and skirts from Zara range from $40 to $79.90.
Zara has a section on their website under the label "special prices." With this label, they just mean sale section. They can call their prices whatever they want if there is a good discount!
I was browsing through the special prices and noticed there are multiple summery dresses and skirts to choose from marked at only $19.90. For Zara, dresses and skirts start at $40, but most generally retail closer to $80. This is a great price for these lovely dresses and skirts for summer.
One of my favourite options is the Long Striped Dress that will cost you only $19.90. This breezy tank style dress is available in four colours including a navy and white stripe, a black and white stripe, black and coral. These dresses are currently available in sizes small, medium and large in every pattern. I have several similar maxi dresses that I love for the pool. Sometimes I will throw one on over my swimsuit, and catch my errands on the way home. A few dresses like this are so versatile for summertime.
Another great summer pick is the Basic Sleeveless Dress that is also $19.90. This dress has a fitted style compared with the first dress. I think this one is a little more versatile to dress with accessories up for a dinner out, or dress down poolside. Colours include mustard yellow, navy blue, black and one labeled "tan" which looks like a thin blue and navy strip in the picture. There is a little less sizing availability than the first dress, but most colours are available in small, medium and large.
I like the Flared Jacquard Mini Skirt priced at $19.90. This skirt is available in six different options including black, white and four different various prints. Sizing is similar to the dresses and is available in various options of small, medium and large. This one has a cute flirty hemline!
The Jacquard Tube Skirt for $19.90 is available in four prints and is perfect if you prefer a fitted look. This one has sizing that is a little spotty but do not overlook it. Make sure you check out the coloured floral and striped print that somehow slipped into my shopping bag.
Check out the rest of this special prices section, I am seeing some other nice deals. Free shipping is available for all orders of $50 or more. If you just want to pick up one item, standard shipping is only $4.95. Grab your favourite while they still have your size.
(Expiry: Unknown)