Zara Canada: Men's Shirts $16 (Was $60)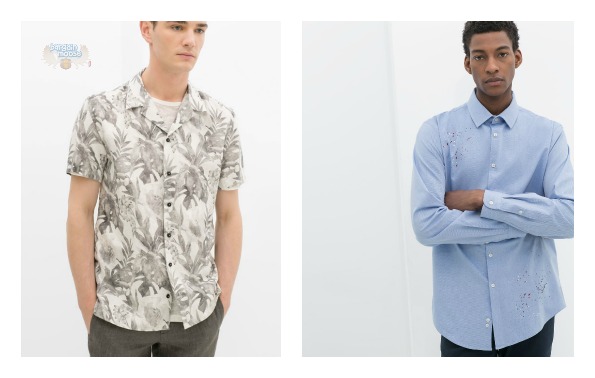 Score nearly 74% off men's shirts online at Zara Canada. Both the Structured Shirt with Paint Stain and the Printed Shirt are now $15.99 each, originally $59.90.
There is not a large selection of shirts but there are a decent number of sizes still available, which is why I am blogging about this deal.
Structured Shirt with Paint Stain
This shirt would look like any old dress shirt with rounded bottom and collar, except for the artistic 'paint stain' rendered on both the right shoulder and the complimentary left bottom part of the shirt. The paint stain features deep red, black (or maybe navy blue), and white paint flecks that add colour and a modern feel to the top. While the shirt is available in white or blue, white is sold out in all sizes except for large. Thankfully blue more than makes up for white's shortage. Purchase the sky blue Structured Shirt with Paint Stain in sizes small through extra-large. All sizes are available.
The printed shirt is Zara's take on the ever-popular Hawaiian shirt but in a more subdued colour scheme. In grey and white, you will see an oversized tropical print with ferns and blooming flowers. I am not sure what all the flowers are, but I did recognize a hibiscus in the print as we use to have a plant. I hate Hawaiian shirts but this shirt is an exception due to the use and depth of the greys to express the pattern without burning through my eyeballs. The printed shirt is in stock in sizes small and large.
Shipping is free on orders of $50, or else it costs $4.95 per order. You may wish to shop the rest of the Zara sale to meet the free shipping minimum. Over 70% off shirts is certainly a great deal and I hope some of our Mooser men will find themselves wearing a fun new shirt soon. There are some shorts in the sale for around the same discount, like the Floral Print Bermuda Shorts for $15.99 (was $59.90) available in sizes 30 and 31. These Oversized Bermuda Shorts are also the same discount as the shirts above and, as they are white, would work well for mix and matching. Originally $59.90, they are now on sale for $15.99. Sizes medium and large are still available for sale.
Hey Moosers, what do you think of Zara clothing?
(Expiry: Unknown)