When it comes to buying plus-size women's clothing in Canada, there are not very many dedicated stores to choose from. But with a bit of savvy shopping, you can expand your wardrobe and not break the bank in doing so. This article tells you a bit of info about where to get the best deals for ladies plus-size clothing in Canada and the most popular stores for fuller-figure fashions.
Dedicated Canadian Plus-Size Clothing Stores
Additionelle.com
A major name in plus-size clothing in Canada is Addition Elle. The whole store sells plus-size fashion, with some items up to 4X. With up to 70% off in their sale section, you can hunt for bargains there. Addition Elle frequently offer promotions with extra coupon codes, even free shipping. It's worth joining their mailing list and watching out for the best offers as they happen quite frequently.
Penningtons.com
Sister site to Addition Elle, Penningtons has more of a focus on a younger market. Again, with a very busy sale section, it's always worth stopping by there to save up to 60% off many items. Like their sister site, Penningtons also quite frequently offer differing promotions, it's always worth watching out for special offers on holidays such as Victoria Day, Family Day, Boxing Day, etc.
Sexyplusclothing.com
If you are looking for fashion and lingerie for the curvier body, check out Sexy Plus Clothing. They have a gorgeous range of clothing but would be slightly pricier than the above stores. Sexy Plus Clothing quite frequently release coupon codes for discounts and free shipping, so be sure to subscribe to our coupon updates on the page above to be alerted when they have a special offer.
Lingerieforplussize.com
Lingerie for the larger ladies can be hard to find, but not if you shop online at Fran Blass, lingerie for plus size. They sell a beautiful range of sexy nighties, babydolls and hosiery, with some items even going as far up in sizing as 6X. Coupon codes for Fran Blass are rare, but subscribe on the page above and we'll let you know when they are released.
Voluptuousclothing.com
The online store Voluptuous Clothing, is one I recently discovered when googling for fashion for the fuller figure. If you're looking for something a little different for your wardrobe, this is a good place to start. Their sale section has a small selection of items at up to 70% off, but the rest of the site is populated with many more choices. Coupons are rare, but sales are frequent.
Curvaliciousclothes.com
The website Curvalicious Clothes is an Ontario based business, offering a range of plus size clothing, everything from dresses to accessories. Coupon codes are pretty frequent for this store, though their flat-rate shipping is quite high. Make sure to offset it with one of their coupon codes when you are buying there!
Lucyclothing.ca
Over at Lucy Clothing, the BC based clothing store specialising in fashion for fuller figures, sells a huge range of clothing in plus sizing. Sign up to their email newsletters for a 15% discount when placing your order!
X-two.com
Online shoppers at X-two can browse a range of fashions for curvy women; boleros, blouses, blazers and more! X-Two was originally an Amsterdam based company, but Canadian orders are fulfilled from their offices in BC. It's nice to get a more European feel with the choices in this brand.
Theplusfactor.ca
This Ontario based boutique known as The Plus Factor specialises in sizes L to 5XL. Sometimes offering free shipping coupons or even a discount on your purchase, you can buy anything from formal prom dresses to handbags to match your outfit.
Yourbigsisterscloset.com
A smaller Canadian boutique, Your Big Sister's Closet has one great benefit to this store specialising in sizes above 12, – there's free shipping on any order in Canada. They've got a great set of retro glam dresses and outfits. Have a browse!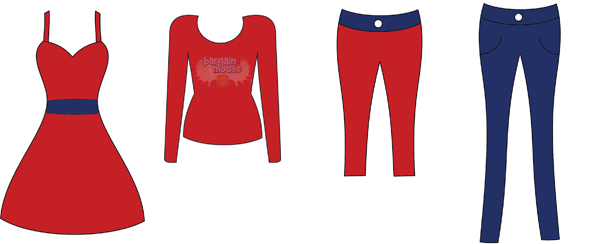 Canadian Stores with Plus-Size Fashion Sections
Many stores have a dedicated section specifically for clothing for the larger figure. Here's a quick list with the links to those sections from some of the major Canadian retailers, as well as the link to our coupon pages.
Recommended tip: click through to our coupon pages above and subscribe to coupon alerts so that you get an email when a new coupon code is released!
Questions for the Moosers
Do you regularly buy plus-size clothing? Where do you typically buy from? Have you any more stores to add to the above lists?