VIP Sale! Save up to 25% @ Hudson's Bay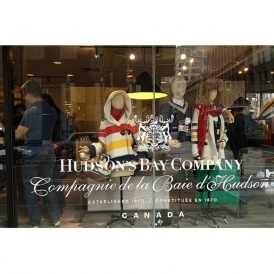 It's the most... wonderful time... of the year! Just kidding, but it is VIP sale time at Hudson's Bay and you can save up to 25% off your purchase. Just use the promo code VIP at checkout.
The VIP promo code entitles you to the following discounts:
25% off clothing, accessories, shoes, jewellery, linens and housewares
10% off regular price cosmetics, regular and sale mattresses, furniture, appliances, cookware, confectionery, electrics
But, as with all Bay sales, there is a long list of brand exclusions (far too long to list here) so it may be a bit of roulette with the discount code.
I'm always on the lookout for a new handbag and was curious to know whether or not the promo code would work on a bag that was already on sale. Well, lo and behold, it did!

This Bobbi Inside-Out Tote Set was originally $120 but was marked down to $79.99. I popped it into my cart, applied the code and it was discounted another $20 to just $59.99.
I find that these VIP promotions are a fantastic time to purchase bigger ticket items you may have had your eye on that don't often (or ever) go on sale.
For example, in my pre-baby lifetime (when I had, you know, time) I was quite the baker and I've always wanted a KitchenAid stand mixer. This little beauty, the KitchenAid Classic Series Stand Mixer, is already on sale for $299 from $449 but with the additional discount (10% as it's an appliance), it's just $269.10.
Oh, I just know my credit card is going to take a hit these next couple of days! Find another fantastic deal? Let us know in the comments!

Hudson's Bay offers free shipping on orders of $99 or more, otherwise, shipping varies depending on your order total but starts at $5.95.