Valentine's Contest: Win One Year of Panties From Panty By Post! (CLOSED)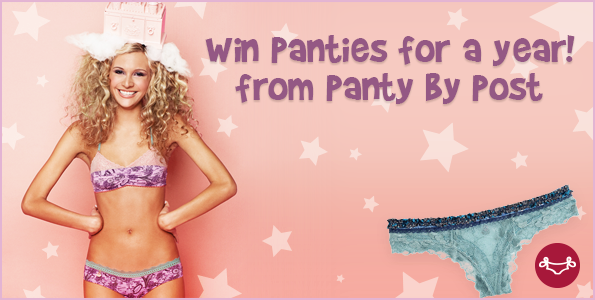 *** Contest now closed, winner is Hubby Heart! ***
Valentine's Day is right around the corner and you might be already thinking about gifts for the love of your life. Or you might not and this contest is getting you into action. This is contest is for the ladies and for all those who love the ladies. Win your favourite lady one year of premium panties from Panty by Post with our exclusive contest.
What does one year of premium panties look like?
Every month you'll be mailed a beautiful new pair of panties from Panty by Post's premium line. It comes in a beautiful package and truly is the gift that keeps on giving - men are you paying attention here? The premium line that you can win with this contest consists of panties made from high-end fabrics with feminine cuts and one of a kind looks. These are your special occasion panties or if you like to pamper yourself daily, you can do that too with the premium panties at Panty by Post.
The 12-month subscription is worth $378, so you are getting panties that cost about $35 a pair, once a month, for 12 months.
I think this makes a fantastic Valentine's gift for both the men and the ladies as the ladies get new panties and the men get to see their ladies in sexy new panties that they gifted them. Win-win if you ask me!
You have your choice of styles from thongs to hipster to bikini or you can be surprised and get what Panty by Post chooses for you. I love a surprise!
If you'd love to give this as a gift to your lady (or to yourself, because you deserve it!), there are various subscription options available as well as individual panties for sale. I think the idea of having your lover receive a new pair each month makes such a great gift idea, because she won't just thank you on Valentine's Day, but hopefully she'll thank you each time she gets a new pair ;)
Of course, we've also got an exclusive coupon for you to use when buying this gift that gets you ?? The best part is that even if you've forgotten to get your lover a gift, you have right up to V-Day to get this gift and she will never know that you shopped last minute as she'll just be anticipating her new panties in the mail.
Coupon Code: BARGAINMOOSE
Discount: 10% off $30+
Expiry: 28th February 2015
How to win this prize?
Have a look around the site and tell me which pair of panties you'd love to receive (or give) and why you need to win this contest!
Get bonus contest entries!
Rules:
Canadian entrants only
One entry per household
Ends 19th January 2015
Rules subject to change at admin's discretion