Up to 93% Off - Bras only $10 @ Kallone Intimi *HOT*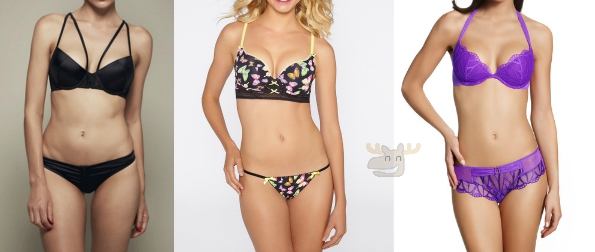 Kallone Intimi is offering up to 93% off select bras during their $10 bra sale. Purchase bras from designer brands such as Betsey Johnson, Kisskill, Implicite, Blush, and more. Each bra is now only $10.
The best discounts are on the KissKill bras that were $130 and are now only $10 each. I cannot even begin to express how awesome that discount is and how much I wish they still have my size in stock! As you can imagine, sizing is very limited as sizes are selling out quickly.
My favourite is the Kisskill - Cassie Bra in Orchid that was $130 and is now $10. You may be confused by the sizing - it is Australian - but the key is simple. The cup sizes are the same and 14 = 36, 12 = 34, 10 = 32 for band sizes. There are a couple other of their bras you will want to check out:
The Blush - Natural-Fit Bra was another highlight of the sale section. I love the lace accent on the dark purple cups. Originally $42, this bra is now on sale for $10. This looks like a very nice everyday bra for most women and it goes up to 38 band sizes.
I was very pleased to actually find a bra still in stock in my size. This Betsey Johnson - Stocking Stripe Demi Bra in Purple combines one of my favourite colours with one of my favourite designs. The bra looks fun and simple like a good every day bra should. Originally $58, the bra is now $10.
The Betsey Johnson - Butterfly Pin Up 3-Quarter Length Bra is really cool as well. It is not a 'full long-line' but rather comes 3/4th the way down as far as a longline bra would. I really like longline bras on my frame, so this bra is a winner! Originally $55, the bra is now on sale for $10.
Note: some of the matching underwear is steeply discounted as well. Just follow the link under the bra down to the matching underwear. Some of the KissKill briefs were 460 and are now $5.
There are several other bras to choose from as well. Kallone Intimi offers free shipping on orders of $50 or more. Orders under that minimum will have to pay a flat fee of $10.
(Expiry: Unknown)