Up to 90% Off Navy Colored Styles @ Beyond The Rack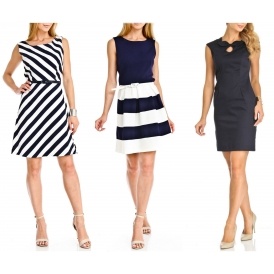 Beyond The Rack is a great place to find some of the best deals on high fashion and high quality items. Today, they have something new happening, and I love it! Their current promotion features 90% off hundreds of navy colored items. That's right! 90% off dresses, shirts, sweaters, pants, anything, as long as it's navy. Seeing as navy is one of the most timeless and classic colors, this deal sounds like a dream come true.
To shop any of the multiple Beyond The Rack sales, you do need to be a members, but take our word for it; it's worth it! The deals that you will find on this website will trump almost any other deal site. They are great at keeping current and updated on styles and trends too, so it's a great investment.
This sale has some great deal, with more than ten items at $10, and hundreds more trailing closely behind. If you're as big of a fan of classic navy as I am, you'll really enjoy the many pages of choices in this awesome sale.
Shipping on these items are based on your order, but Beyond The Rack has a promotion on where if you pay for shipping today, you get 3 days of free shipping in return.
(Expiry: March 7th 2016)