Up To 80% Off Activewear With Code @ Old Navy!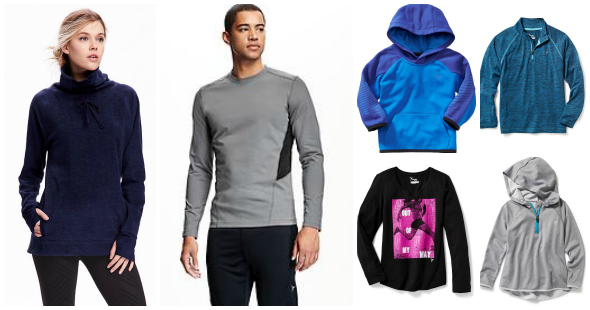 What a deal! Normally when Old Navy offers promo codes, specialty items (such as their activewear line) are excluded from the discount - especially when it's already on sale. But not this time! Old Navy Active is currently up to 50% off, and through January 13, by entering code WOOHOO at checkout, you will receive an additional 30% off your entire purchase. This is making for some serious savings on Old Navy's great line of activewear!
Coupon code: WOOHOO
Discount: 30% off entire purchase
Expiry: 13th January 2016
Old Navy Active is made for the whole family: women, men, kids and toddlers so you can all look great while playing outside or walking the neighbourhood. I've got some of their stuff and the quality is very good. I've found them to have thick and sturdy leggings, well-made tops and supportive bras. I just might add to my collection now!
Women
The Go-Warm Tech-Fleece Hoodie would make a cozy layer for your winter fun but could be worn as your only jacket once the weather warms a bit. It has a curved, hi-lo hem to cover your assets and Go-Warm technology generates heat to help keep you toast warm. Available in black, navy and heather gray, one of these jackets would normally cost you $44.94. They're currently on sale for $35.50 but after applying the promo code, the price dropped to $24.85. And I love the look of these Go-Warm Cocoon Neck Fleece Pullovers. Regularly $34.94, the light heather gray will be just $7.69! 
I actually have these Go-Warm Compression Leggings and I love them. The black stripe print is faint and they just appear to have a cool marled effect. They're high-quality -- thick, comfortable. Regularly $34.94, they're $24 right now. But with the additional discount, pay just $16.80 but look like a million bucks!
If the studio is more your style, you can't beat the great back details on these T-Strap Tanks. Normally $16.94, two of the colours (a pretty, light aqua and dark carbon gray) have already been marked down to just $7 but there aren't a ton of sizes left. If you're lucky enough to score on in your size, you'll pay just $4.90 with the promo code. Other colours are $11.50 and will drop to $8.05.
If you're in the market, don't forget Old Navy Active's line of sports bras. They've got different styles for different levels of support, from light to maximum. These light support Ruched Cami Sports Bras are just $5.60 with the additional discount.
Men
They've got great base layer items for men, too. Tees, tops, tights, and shorts will all help keep him warm and wick away the sweat during winter activities. Hurry, though, it looks like a lot of the sizes are going fast! These Men's Go-Warm Quarter-Zip Pullovers are as low as $11.89 with the promo code applied.
Kids
Don't forget the kids! There are cool girls' graphic tees for as little as $4.90 and cute Printed Yoga Leggings for only $7. For the guys, there are $5 Go-Dry Shorts (as a "Hot Deal", these are excluded from the promotional discount but, still, $5!) and Go-Warm Printed Compression Shirts for 80% off at $5.59.
Toddler
Your littlest ones won't be left out, either. Little girls' Go-Dry Graphic Tees start at $4.19 and Zip-Front Logo Hoodies for boys are as low as $7.69.
Outfit the entire family with new activewear for much, much less, Moosers! But only through January 13th, so get going!
(Expires: 13th January 2016)