Up To 70% Off Clearance Items @ The Shopping Channel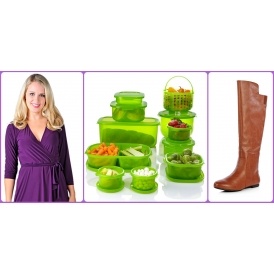 To celebrate the spring (it will eventually arrive I promise), The Shopping Channel has launched a code to get an extra 15% off almost everything—this puts select clearance items at up to 70% off their original cost. This is your opportunity to shop for almost anything, and get a huge discount. Shipping varies by item. So go ahead and enter the code SPRING15 at the check out process to get an extra 15% off almost anything.
When The Shopping Channel offers additional discounts, I almost always head into their Last Chance section. That is where the greatest discounts are to be had, and you wouldn't believe the variety of items you can find there. This code is valid today only, so don't miss out.
I was literally able to spot everything from tall boots to kitchen storage essentials in the last chance section right now. The shipping and handling fees will be listed right below the product cost when you click into an item.
I currently own these Fergalicious Tiara Tall Boots. I got them during one of the previous The Shopping Channel promos and I adore them. They are on sale from $135 down to $40.33 but when you apply your extra 15% off you will pay just $34.28 plus $9.98 shipping, not bad for such a quality pair of boots.
I think those tall boots would go well with one of these Tiana B Long Sleeve Wrap Dresses which are on sale from $79.90 down to $19.33. Don't forget to use the promo code for an extra 15% off, which puts your price down to $16.43 plus $6.99 shipping.
What items did you spot in The Shopping Channel's Last Chance section today?
(Expiry: 11th April 2016 @ Midnight)