UA Band $170 (Reg. $230), UA Healthbox $400 (Reg. $550) At Under Armour Canada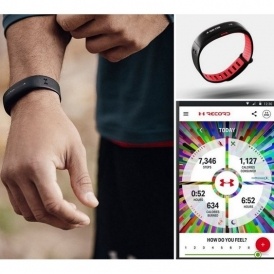 Under Armour is a leading brand in athletic wear, and they clearly hold the same exceedingly high standards of quality in their fitness technology. I would love to have the UA Healthbox, mentioned below! I can see it would really help a person to reach their fitness goals.
If you want to see how many steps you take when you get outside with your kids to play the newest craze, Pokémon GO, you'll want to be wearing the UA Band. It's now $170 for a limited time only, and the regular retail price is $229.99.
The UA Band measures sleep, resting heart rate, steps, and even workout intensity (when worn with UA Heart Rate.) There's a display on it that can stay on during workouts so you don't have to be pressing buttons to view it. It's water resistant so you can shower with it, but you wouldn't want to take it swimming since it shouldn't be submerged under water. You can control your phone music controls and get texts, caller ID, calendar notifications, updates and challenges from UA Record (via bluetooth.)
If you want to kick everything up a notch, you can purchase the entire UA Healthbox for $400, also for a limited time, down from $549.99. It's only $170 more than purchasing the UA Band alone but you will receive the UA Band mentioned above, the UA scale, the UA heart rate and UA Record, a phone app that is compatible with iPhone and Androids. It syncs everything up nicely for you to view on one well organized app, to be able to consistently work on your fitness goals and see your achievements!
Shipping is free at Under Armour Canada on orders over $75.
(Deal expiry: July 31, 2016)