Tribal Print Skirt Was $90 | Now $31 + Free Shipping @ Le Caniche Noir Canada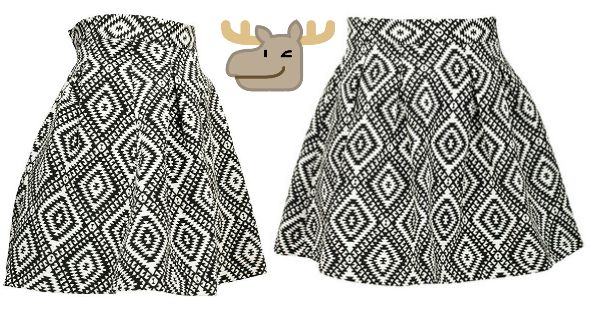 Le Caniche Noir Canada may just be my new favourite store. Why? Well, every time I check out their sale section I fall in love with yet another apparel item for a great price. LeCanicheNoir.com even offers free shipping with no minimum, so even if I find just one item for a cheap price I can snag it. Right now I have my eyes set on this Tribal Print Skirt for just $31.
This Tribal Print Skirt from Le Caniche Noir had an original price tag of $90, but right  now you can snag it for just $31. This black & white fitted skirt is sure to be an excellent addition to any wardrobe, especially because patterns like this and houndstooth seem to be so popular lately. I would pair this Tribal Print Skirt with a clean white blouse and some black pumps, don't you think that would be super cute?
The Tribal Print Skirt from Le Caniche Noir has a fitted waist, but it flares from the waist down. This design is meant to flatter any figure, and I am sure it will. Though, I do find it best to wear spanky shorts under a skirt like this in case the wind decides to try and show off your goodies to everyone. That actually happened to me just last week. I was on a boat with my son wearing a cute sun dress and a gust of wind caught it and showed everyone my lovely underwear I got on sale a few weeks ago. Sometimes you just have to laugh, right?
This skirt is made of 54% polyester, 38% cotton and 8% viscose. I suggest reading the wash/dry instructions very carefully before throwing this little number in with the regular laundry. Hopefully it is easy maintenance, I hate hand washing clothes. What about you?
I really like that Le Caniche Noir offers free shipping on all orders. Hopefully they keep it that way because I have grabbed a few apparel items from them already in the past month or two. First I got the Houndstooth Tie for just $10 and now will be taking this Tribal Print Skirt home for just $31. There are lots of other items in the sale section too, so be sure to browse through and see what else you can find at a great price.
(Expiry: Unknown)