Totally Free Shipping @ Forever21Canada & Items From Only $2.90 * Glitch?? *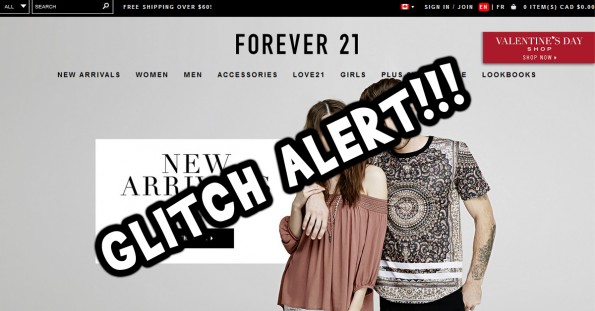 Moosers who like Forever21 will be interested to hear about a free shipping promotion which is happening just now. Buy any of the items in their winter essentials range and you will get totally free Canadian shipping with no minimum order value required – on everything else you buy on site! However, I think I've spotted a little glitch – put ANYTHING in your cart just now, doesn't have to be one of the winter essentials, and you'll get free shipping!
Shipping usually costs $8.95 on most orders, or it would be free on a $60 spend, so this is a very handy saving. Here's a screenshot of my shopping cart with a low-priced cami:

While you are over on Forever21, check out their weekly specials. There are flash deals with 21% off, with new deals added each week. Also check out the 500 favourites under $5 too. All those would also get free shipping if you popped them in your cart as well!
Basics from $2.90 here - there are items in there from $1.80 but those appear to be out of stock. There are camis from only $2.90, as I mentioned in my headline.
There are a few different categories in which you can choose to shop if you do wish to browse the winter essentials from $12.80:
Above, I mentioned that you can pick up items from only $12.80. That refers to ladies' scarves in the winter essentials accessories section, such as the fringed colorblock scarf, the Tartan Plaid Frayed Scarf or the Oversized Two-Tone Scarf. Prices of all other items are then upwards from that.
I was considering this Reversed French Terry Sweatshirt for my man, but it isn't quite big enough. It goes up to XL but my partner is a double… so won't quite fit. It's priced at $21.90 with free shipping, which is quite a sweet deal. I don't think there'd be much warmth in this sweater, it looks quite thin – but it would be good for layering.
One of my sisters would absolutely adore this Shaggy Faux Fur Vest which is currently priced at $41.80. The only thing that would make her like it better would be if it was real fur… but then not everyone agrees with that. :)
Happy shopping!
(Expires: Unknown)