Threadless: End of Season Clearance Sale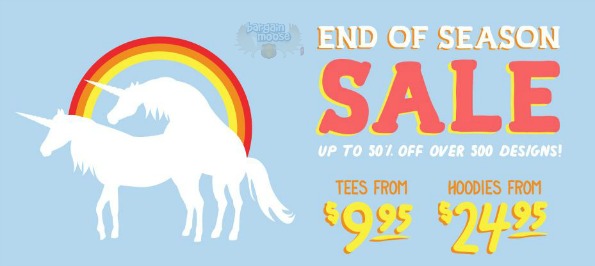 Threadless (US) is having their end of season clearance sale with tees starting at $9.95 and hoodies starting at $24.95.
I want to concentrate on hoodies in this post, as they go on sale far less than the t-shirts do. I, for one, love hoodies and I love the artistry of Threadless hoodies. I rarely see anyone wearing the same one I own. Here are some great sale hoodies:
I think the Space & Time hoodie is my favourite, I just know so many people who would appreciate it. Sci-fi geekness is alive and well in my city! Most hoodies are available in limited sizes and limited quantities due to the great sale prices. Spend $75 and get $9.95 shipping.
All prices in USD. Products ship from the US via Canada post. You could be subject to duty/customs - however, I have ordered from them several times and never had any problems.
(Expiry: Unknown)