Threadless Art Print Sale: Everything $10!
I've blogged about the awesome tees @ Threadless in the past. I think a few of you have even ordered some of them! I have a huge collection of their t-shirts, I'm a great big fan.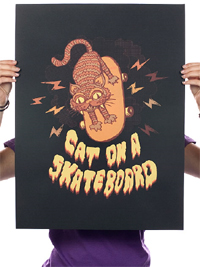 Inoticed that on their site that Threadless also sell "art prints." These are simply prints of cool t-shirt designs, which you can mount and hang on your wall. They've just emailed to let me know that they are selling all their art prints for only $10!
Everything there is only $10, reduced from $35. Right now, I can see 36 designs to choose from, but I think the stock levels are going down as people are snapping them up.
I'm tempted to make an order! I love Threadless designs so much, I'd be happy to hang them on my wall. My fave is the cat on a skateboard, pictured top right.
Regarding shipping for these art prints, it's a flat rate of $9 to Canada. I tested it with 5 in my cart, and shipping was still only $9. As these ship from America, just watch out for customs fees.