The Gap Canada: Earn $25 on Every $50 Spent In Store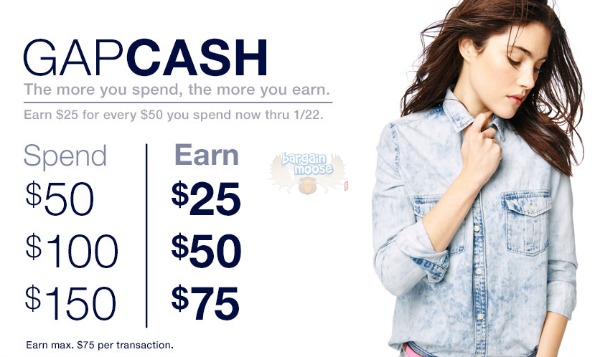 This is an in store deal only folks! When you spend $50 or more in store at The Gap you will earn Gap Cash to spend at a later date.
The way it works is pretty simple:
Spend $50 get $25 Gap Cash
Spend $100 get $50 Gap Cash
Spend $150 get $75 Gap Cash
The maximum you can get per transaction is $75 in Gap Cash.
Now, you can spend your Gap Cash between the 30th of January to the 5th of February. That is kind of a short window but if you buy a lot of your family's clothes at The Gap this could be a nice opportunity. You can redeem $25 Gap Cash on every $50 spend.
In plain language this deal is a 25% off deal. Because you spend $50 twice to get $25 off (so in the end only spend $75 for $100 worth of stuff).
The full details and guidelines can be found through the link above. I know many girls who exclusively buy their jeans at The Gap because of the curvy fit or other fits that are just perfect for them. Jeans can be pretty expensive so this is a good deal for an in store promotion.
(Expiry: 22nd January 2014)