Take 70% off Hooded Bomber Jackets for only $30 & Free Shipping On Orders Over $50 @ Zara Canada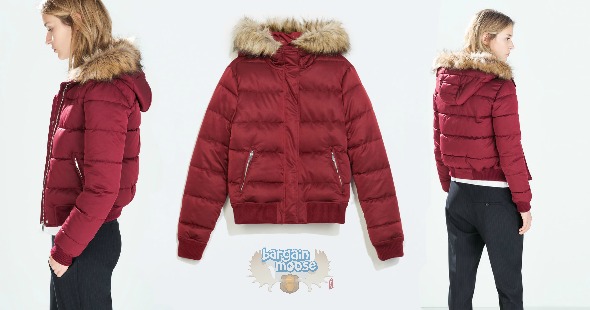 I was browsing Zara Canada's current sale and was quite impressed. For a limited time, Zara has select items on sale for up to 70% off their original price. This applies to items for men, women and children. The first of the hot deals that really stood out to me was the Hooded Bomber Jacket for 70% off. These jackets were $100 but for now you can pay just $29.99. 
The Hooded Bomber Jacket for just $29.99 from Zara Canada is 70% off the original price. This stylish coat would be an excellent addition to your wardrobe. There are two different colours available - black and burgundy. I like both of the colours but black does match everything. All of the sizes are still available in both colours, but I am sure that won't last long.
I already have way too many jackets, but I still want to add this one to my collection. I feel like this jacket would be great for evening walks in the early spring or late fall. The hood is not detachable but you won't be complaining. There is a faux fur rim around the hood to ensure no draft bothers you while venturing through the Canadian seasons. You can look stylish with the hood down, or put the hood up and have the fur protect you face and neck from the elements.
I also like that there is a cover over the zipper. Call me crazy, but I find that jackets without this essential cover let a lot of wind through the zipper. The elastic edging around the cuffs and bottom of the jacket are another way to make sure no unwanted breeze gets in. The two pockets on the front of the jacket zip up to ensure you don't lose your keys or cell phone. Nothing is worse than losing your keys while walking through deep snow. That unfortunate event probably happens to me a lot more than it should.
I personally do not own any apparel from Zara, but I have heard great things about their prices and quality. What do you think? Zara Canada also offers free shipping on all orders that exceed $50 after discounts. That means you can purchase a Hooded Bomber Jacket in each of the two colours and not have to worry about any shipping and handling fees. If you only want to order one jacket, your shipping fee will be just $4.95 for standard delivery.
(Expiry: Unknown)