Sweet Dresses From $8.50 @ Forever21Canada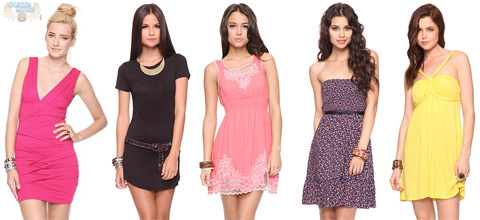 So summer's here, and we need excuses to get our legs out in the sun, trying to get rid of that winter white glow. Well, maybe that's just me? If you're the same, I'd recommend checking out the dresses on Forever 21 Canada - there's a great selection at sweet prices just now.
The prices start at $8.50 for the likes of this black tee-shirt dress (pictured above)but most of the dresses seem to be in the $20 to $30 range.
There are some gorgeous colours to choose from, if you're brave enough! This bright fuschia silky origami dress is $23.80 (pictured top left), it looks to be a very flattering shape, as does this stunning yellow braided trim dress for only $12.50 (pictured top right).
Right now, I am really loving this shape of dress - the Embroidered Lattice Dress for $27.80 (pink one pictured above). I'm finding that this particular shape and style is really flattering for all my post-baby bulges. Plus, they're great to wear with short leggings underneath.
A style I really cannot pull off is the strapless, such as this Belted Ditsy Floral Dress for $21.80 (pictured 4th one across, above). With post-baby boobage, it just doesn't seem to work for me up there in the chest department. Bits are spilling out where they're not supposed to, and it really is a bit of a fashion disaster on my behalf.
If you're buying online, you'd have to spend $60 for free shipping - by the time you throw a few cute numbers in your cart, you'd easily reach that threshold.
See any dresses you like?