Suzy Shier: End Of Season Sale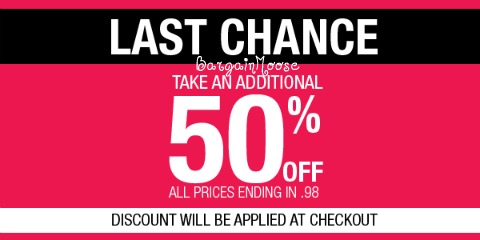 Suzy Shier is having an end of season sale. Save up to 75% off select items! They are also running their Last Chance Sale where you can save an additional 50% on select sale items.
The end of season sale has some eye popping prices. The first 3 items on the page are only $2.50! This ruched sleeve basic long sleeve t for $2.50 is available in 4 colours and a variety of sizes. The ruched pocket 2 button blazer is just $15, pair it with these one button waistband pants for $10 and you've got a complete outfit for $27.50!
Take a look on the sale page and save an extra 50% off items ending in .98! Time to load up the shopping cart! What's interesting to note is that for all of the items, they just reduced the regular price by 2 cents ( to make it end in .98). Why not just give 50% off the regular price?
These Clean Front Trouser Pants are $34.98 (now $17 ) would be a good work staple. If you need a new wallet, this Turn Lock Double Fold Wallet is $11.98 (now $) and is available in 3 colours.
Regular shipping runs from $8-12.