Stag Shop Canada: 25% Off All Lingerie + Free Shipping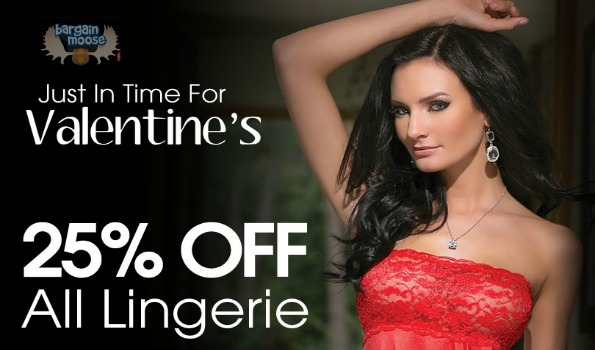 Just in time for Valentine's Day, the Stag Shop is having a 25% off sale this weekend on all lingerie, online only. Lingerie is a great gift for her, or for him. Either way it is a win-win.
The Stag Shop has a huge selection of lingerie options from the timid to the outright exhibitionist. Although the sale says 25% off, I did find some that were over 50% off.
Let's start with a teddy. Apparently, everyone needs at least one black teddy, and this one is it. Only $20.99, regularly $27.99. This knit teddy is simple with a gathered mesh down the middle, which I love because it hides the belly.
This waist cincher goes with your bra and panties to give you that slim silhouette look. With six removable garters, centre back lace up and covered in sequins, this is definitely something to wear for a special occasion. Now only $47.99, regularly $63.99.
If you are plus-sized there is some gorgeous lingerie for you too. I love this two-layer ruffle mesh babydoll and g-string in pink and black. Only $23.99, regularly $31.99.
And we can't leave him out of this equation. I do find it sad that what is considered lingerie for him is a pig face or a frog that's been strategically placed. So, for me, you can't go wrong with a pair of sexy, tight boxer briefs. These look good on any man. Now 40% off, get them for only $11.25, regularly $24.99. These boxer briefs are soft and stretchy and come in a simple black or white.
Get free shipping on all orders with no minimum until January 31st - great Valentines ideas!
Expiry: 27th January 2013