Sporting Life Canada 10% Discount!
Here's a little bit of a discount for use online @ SportingLife and at Sporting Life stores in Canada.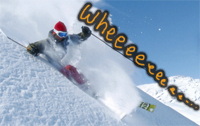 If you shop online, you get free shipping on a spend of $100 or more.
Apparently, the free coupon only applies to insulated winter wear, and winter sportswear items on sale. If you needed something along those lines, then check it out and see what bargains you can come up with! Apparently there's already a 50% sale on those items, so worth checking out as the 10% discount should apply on top of that. There's a sale on their European skiwear too, if you're interested in that kind of thing.
If you sign up to the email newsletters on the Sporting Life website, you could win a $10,000 shopping spree! I think I'd find it quite difficult to spend $10k at a sports store. I guess I could buy lots of re-saleable goods and whack them on eBay though!