Simons Canada: $15 Off $100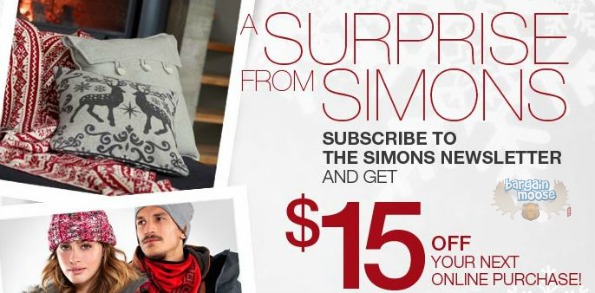 When you sign up for the Simons Canada newsletter you will receive a coupon/voucher for $15 off a $100 order.
Team this offer up with some of Simons' great sale prices on fashions and housewares. Here are a few things I picked out:
Though not on sale, I think I have finally found the swimming trunks I am going to get my husband. He has these neon green (yup, they could burn holes in your retinas) trunks and I want to replace them. I love these Logo Emblem Boxer Swim Trunks for just $50.
There are many things to check out while you are there. Right now they are offering free shipping on your purchases - a great bonus as well. Your items get shipped via UPS and arrive in around 3 - 5 days, such a short amount of time.
Expiry: 31st January 2013