Selection Of Women's Tops BOGO + $5 And Up Men's '50 Wash & Stretch' Tees + Other Sales @ Mark's Work Warehouse!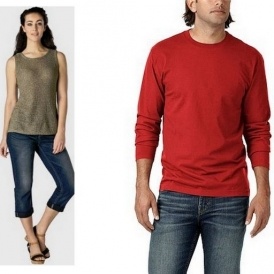 Today I wore a top that had such an itchy, irritating tag in the back that was a nuisance all day - when I saw this Mark's Work Warehouse sale offering 40% off of all '50 Wash and Stretch Tees' for men, I was thrilled! What a great gift for Father's Day! (Maybe I will want to sleep in one of these Tees if I get a few for my husband.... hmm.)
What exactly is this '50-wash' guarantee? These 100% cotton Tees stands up to the wear and tear of washing without pilling or fading for at least 50 washes! These ones are indeed tagless, which helps prevent skin irritation and itch.
T-shirts will start at only $4.73 for specific colours and sizes, so you will want to play around a bit... This 'bright red' (looks like it may actually be a muted, softer red shade) Long-Sleeve 50 Wash T-Shirt is a great deal!
If your better half is not into T-shirts, he may prefer a selection of Men's woven shirts - if you buy one, you get the other one for 50% off.
Here is another great sale on men's clothing, offering 40% off of all Men's casual tanks, tees, and shorts.
As I was looking around on their easy to navigate website, I noticed that a selection of women's tops are on a Buy 1 Get 1 Promotion! (All regular priced blouses and sweaters!)
Other sales in the ladies apparel include: All Casual, Dress, Jeans, and Capris (reg.priced) @ 40% Off
As if this sale weren't already scorching hot enough, Mark's is also offering a selection of Men's sandals at 25% off and selected Women's shoes and sandals at up to 30% off.
Shipping at Mark's is always free after a $99 purchase, or, will cost only $6.50 for standard shipping!
(Deal expiry: Unknown)