Sale Items From $10 & Free Shipping On All Orders @ Roots.ca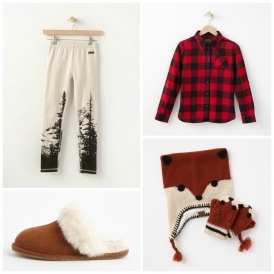 Roots is still clearing out its sale section! There's so much to choose from, with items starting at $10. Plus, all orders ship for free for a limited time. If you're looking for a onesie for your baby, Roots has many of them on sale. They look so comfy that I want one for myself, who says onesies are just for babies? I often forget that Roots carries clothing for everyone: men, women and children.

My favorite sleeper on sale is this Roots Cabin Sleeper on sale for $22.88. I like how thick it seems, for those cold nights. If your baby is always kicking of his blankets, try dressing him in something a little warmer like this onesie. My son still sleeps in onesies just because of that! I don't like to worry if he is cold or warm during the night. It's much easier to control what he wears.
I'm also loving this Toddler Artic Fox Gift Set. I think my weakness is animal themed hats. I mean, who doesn't like to make their kid wear quirky things? It makes for great pictures to look at later on. This set was $38

All orders ship for free at Roots for a limited time!
(Expiry: Unknown)