Sale Items 50% Off + 40% Off Reg. Prices @ Bluenotes Canada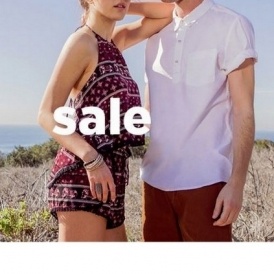 July 20, 2016 - BUMP! In addition to the sale below, is a one day sale today, July 20th only, where the entire store is 40% off all summer essentials and NEW fall favouites! As soon as you put the item into your cart, you'll see the discount. There will be a few exclusions as usual in a sale like this.
__________________________________________________
Bluenotes is having a sale where items that are already on sale (almost all summer items) are reduced by 50% off. The prices are craaaazy good! New stock has been added, so head over there now before anyone else snags your new favourite shirt.
You'll see the sale prices when you click on the link, but in your cart the price will automatically show as an additional 50% off.
You can even sort by size of clothing to quickly see what items are on sale in your size.
Since the sale has limited stock in some sizes and styles, I won't post great finds as usual, since some will only have 1 or 2 left, but - it is definitely worth your while to head over to the sale link above, to check it out.
Shipping is free on orders over $50, (they take into account the regular price of the order, not the sale price you pay!), otherwise starts at $8.

(Deal expiry: Unknown)