RW&Co. Canada: Chino Shorts Only $17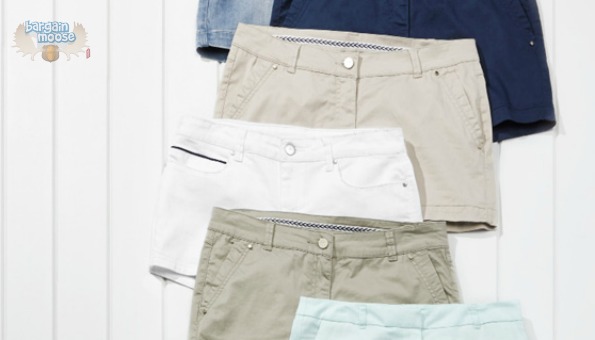 RW&Co. has a fantastic deal on pairs of chino shorts. Regularly $39, they are on sale for $24.95, but just for this weekend, you can take an extra 30% off sale items, so once you get these shorts to your cart, they'll come down to only $17.46.
I love the style of these shorts, as I am not a fan of long shorts, but need something that is not too short to make me look like I think I'm 15. The shorts I need have to be fashionable, tailored looking, but let my legs be the star. These chinos fit the bill perfectly. You really can wear these shorts everywhere (although maybe not to work), and they have a good stretch so feel lived-in and not tight, which is also a prerequisite of mine for any bottoms I buy.
Only the sage is on sale, but it looks like all sizes are available. This is a nice neutral-ish colour that will pair well with anything on top.
Shipping is a flat rate of $4.95 per order, so you could stop there with the shorts, pay your extra $5 and be on your way. But, you could also spend hundreds and still pay only $4.95 so you might as well get in all your shopping, instead of coming back next week and paying another $5 to ship. You can take advantage of the 30% off sale items and save yourself some major bucks.
This Hayden Christensen nylon windbreaker is a super deal. It regularly sells for $89, but is on sale for $49.95. Add it to your cart and watch the price drop to just $34.96. That's a savings of $55! Perfect for all Canadian seasons besides winter, you'll stay warm and dry, as well as look good in this windbreaker.
You could also take advantage of the men's tops that are now 25% off (once added to your cart).
(Expiry: 15th June 2014)