Rickis Clothing Sale Online: Buy 1 Get 1 Half Off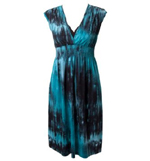 In the clearance clothing section online at Rickis Canada, everything is buy 1 get 1 half price!
Now, some items seem to be out of stock, so you might have to hunt a bit to get items in your size. Some examples of sale items:
This v-neck watercolour dress has been reduced from $69.50 down to $59.99. It's pictured at the top right of this post. It looks like a really nice shape to hide a slightly flabby belly, and it's a great colour scheme for the summer.
I like this border print top, which I have pictured to the left. It has been reduced from $39.50 down to $29.99. It's a nice bright print.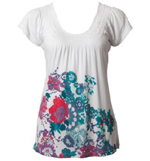 So, if you buy any one of those, the second would be half price. Of course, it's the cheaper of the two items that would be reduced.
As far as I can see, shipping is a flat rate of $9.95.
Rickis do a brilliant range of clothing which is great for office wear. Luckily I work from home and don't need to invest in a million smart / casual outfits! But the stuff from Rickis seems great, as you can just mix and match, tops, skirts, dressy pants.