Reitmans Canada: Hyba Mock Neck Jacket Now Only $5.99 (85% Off)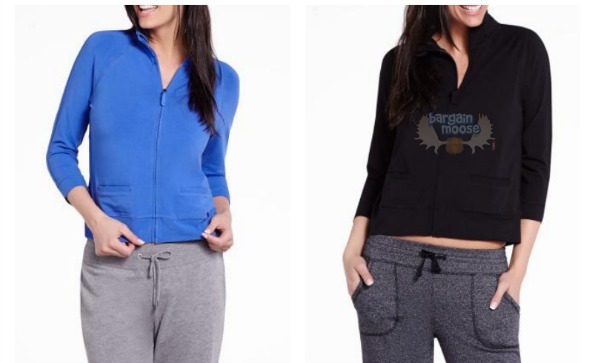 The clearance sales are always the best place to check out clothing deals and they are the first place I hit when looking online.  I found a great deal at Reitmans Canada on a Hybra mock neck jacket.  You can get this jacket for just $5.99 right now while supplies last.
The regular price of this jacket was $40 so being marked down to just $5.99 will save you a whopping 85% on the price.  I can't remember the last time I got a t shirt for just $5.99 let alone a cute jacket!
This mock neck jacket comes in two different colours and still has a fairly good selection of sizes left.  You can choose from black or their parachute blue.  The blue has more sizes available I assume because black is so popular, but I actually prefer the bright blue instead anyways. It is made from cotton and spandex, and it's perfect for going to the gym and for running errands.
This is not the only great item you will find on sale in the sale section at Reitmans.  The items are marked down at some incredible discounts starting at just $2.99. There are a lot of spring and summer items but you can find so great jacket deals like the one above as well as pants, skirts and accessories.
For example, I just love these boot cut jeans that were $50 and are now on sale for just $9.99. I also love these flat sandals that were $30 and are now marked down to just $4.99. They even still have my size left in them!
With hundreds of items to choose from, you are sure to find some great deals.  Some of the styles will have limited number if items or sizes, just because they are priced so low. Additionally, you most likely won't be able to find these same deals if you are shopping in stores.  This is one of those times it is better to shop online rather than in stores for the great selection.
Shipping Information:
Reitmans offers free shipping when you spend just $100 or more on anything site wide.  I suggest you check out the other sale items and stock up while the prices are so low and get free shipping to boot!
(Expiry: Limited time only)