Reitmans Canada: Active Collection – B1G1 40% Off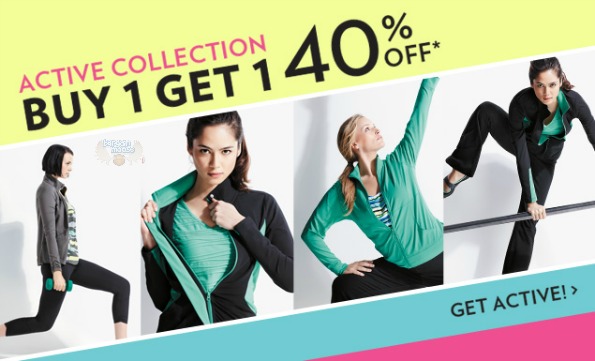 Reitmans Canada is offering a B1G1 at 40% off on their Active Collection.  Second item must be of equal or lesser value than the first and sale is valid on select Yoga collection merchandise only.  This cannot be combined with any other offers or promotions and sale will end on January 26th 2013.
It's time to get back on track with our diet and exercise.  After all, those holiday pounds are not coming off as easy as they went on.  Luckily, our yoga outfits are on sale, so all we have to do is find a program that works.
You can get these great pair of Yoga pants for $36.  These are perfect for any exercise as they are a blend of cotton and spandex.  You can choose from black or night tide and many sizes are still available.
Now, if you'd like, you can get a second pair of pants or this printed Yoga tank at 40% off.  This is listed at $20, but as your second item, would only be $12.  This is also a cotton/spandex mix and available in grey zone or night tide prints.  There are many sizes to choose from starting at small to XXL.
I think it's a great deal: your entire outfit for Yoga, for just $48.  There are many other items here at great prices, so shop around.
Shipping: $7.50 flat rate
(Expiry: 26th January 2013)