Reiss UK: Designer Clearance Sale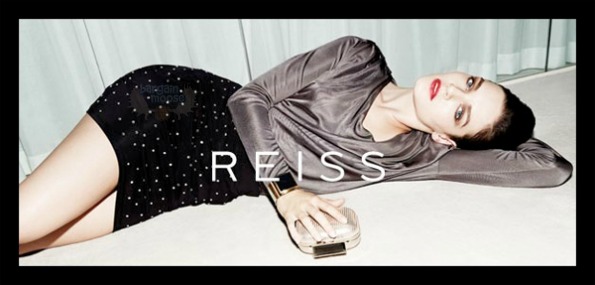 We have another new store for you to checkout, this time from our cousins across the pond. Reiss is a UK company that sells designer clothing, shoes, accessories, and more. International shipping is $25, and delivery duty unpaid: thus, you may be hit with duty fees when your package crosses the border. Right now, they are having a sweet clearance sale with great deals on designer clothing that is hard to procure in Canada.
You might be wondering why I am blogging about a company from England that charges for shipping, and whose packages you might incur duty on. It all comes down to two things:
They have a superior selection of clothing and designer goods than is available in Canadian based stores
This superior selection of clothing and designer goods is currently on sale which makes up for extra charges
For example; this stunning Kitty Lace Black/cream long sleeve dress was $300 and is now on sale for just $92. It has a fitted, bodycon style with black lace panels that are sure to catch the eyes of many onlookers and turn them into admirers. Likewise, this Chloe Bodycon Dress with sheer sleeves was also $300 and is now $92. It has sheer sleeves and I just love the thick black seams accenting the hips. They really show off a woman's curvy figure.
Looking for a little glamour for that next summer wedding you are attending? This Amyline Glamour Pleated Bell Skirt Dress in Apricot celebrates summer colours and comes at a fantastic price. Originally $340, it is now on sale for $84.
There are also some incredible deals on shoes. These Mariella Wedge Sandals were $340 and are now a mere $79. They come in a sexy khaki-colour snakeskin print. With the amount of money you are saving, it really offsets the cost of shipping and any duties you would get charged on the shoes.
While I have no experience with this company, Anna does. Here is what she had to say:
I recently got this Dario Bardot Print Scarf in navy & white as a freebie when I met some people who worked with Reiss. The scarf is currently priced at $95. It is beautiful! It is also a generous size – sometimes I find that this type of "decorative" scarf doesn't have much of a material content, some places scrimp on the amount of actual scarf you get. But this Reiss scarf is a really good size, great for draping about the neck. The quality of the material and the print is gorgeous too.
Enjoy the sale!
(Expiry: 3rd July 2014)