Puma Canada Coupon Code: 40% Off Friends & Family Event!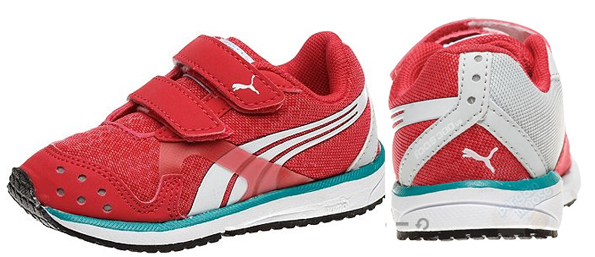 Between now and the 9th of June 2014, you can score an extra 40% discount off your order online @ Puma Canada, as they're having one of their popular friends and family sales events! Here are the details on how to get the deals:
Click here to use the Puma promo code online now
Coupon Code: PUMAFRIENDS
Discount: 40% off
Expires: 9th June 2014
Let's hit up the sale section!
In the image at the top of this page, I've pictured the Faas 300 v2 Kids Running Shoes which are currently on a price reduction, from $70 down to $56. When you add the Puma coupon code, it brings these kid's shoes down to only $33.60. I really like the style of these running shoes and the fact that they are non-gender specific really appeals to me. My little 4 year old daughter seems to be burning through shoes like wildfire, and it feels like I'm buying her a new pair of shoes almost on a weekly basis. When I'm buying her new shoes, I'm very aware of the colour scheme, as I really don't want her to always be in baby pink or neon fuchsia as many girls' shoes are wont to be. These red runners would be perfect for her, as she could still wear them with jeans…. And if I ever get to have a little boy in the future and the shoes are in good enough condition, he could wear them too.
There is of course plenty to choose from in both the men's and women's sale section, where the 40% coupon also applies. I'm taken with these Gym Color Me Up 3/4 Tights which are down from $62.50 to $50, or $30 when you add the coupon code. Lately, I have been really surprised at the amount of colour choices you can get in workout wear. A few years back, I don't remember there being so many funky and bright designs as you can get nowadays.
I'd like to get my man this Puma Heritage Grip Bag which is down from $74 to $75, or $45 with the coupon code. He already uses a very similar bag when visiting the gym or swimming pool, but his is getting old and holey. This Puma one looks really hard-wearing!
Canadian Shipping
Now, prices on the Puma.ca site are shown in US dollars and orders do ship from the US. But you'll be very pleased to hear that Puma absorbs any duties and customs… so the price you see at the checkout is all you will be paying. If you want free shipping, just top your order up to the $99 mark. If your order is less than that, it's a $12.50 shipping fee… that's quite high, so keep that minimum threshold in mind.