Puma All-Pro Mesh Fitted Hats Only $11.75 & Free Shipping!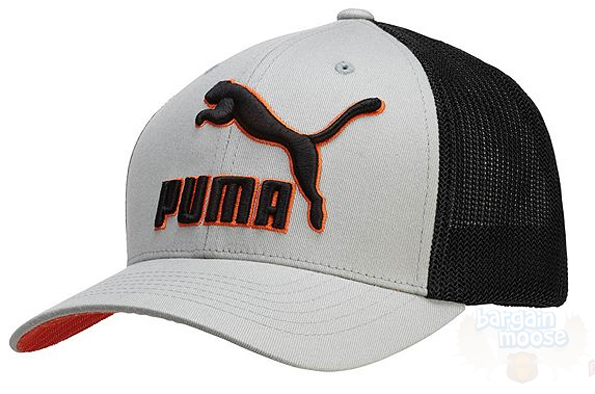 In browsing the sale section on Puma.com, I spotted a price drop on these All-Pro Mesh Fitted Hats. Originally $29, they're now down to $23.50. While that's not a very hot deal in and of itself… when you find out that there's a 50% coupon code plus TOTALLY free shipping too… then the deal gets a bit toasty. You can get one of these hats right now for only $11.75.
Remember, you need to use the coupon code HOLIDAYFRIENDS to get the hat for this price. That coupon code is for 50% site-wide, so you'll be able to use it on any other bargains that you may find.
This particular hat is available in two colours. I've pictured the tigerlilly-grey above, but you can also grab it in white-bluebird, if you prefer. Stock seems to be quite low, so the deal might not last for very much longer.
I know it can be hard to price compare this kind of thing, as there is such a variety of branded hats out there. My first thought in price comparing was to head to Lids.ca and see what was similar there. While they're not the exact same style, most of the Puma hats are in a price range of $30 to $40. Even over on Sportchek.ca, all the Puma hats are $29.99+. So, I think that $11.75 with free shipping is a really super deal from Puma.
With regards to shipping, just note that Puma ships from the US so it may take a tiny bit longer to get your order. You won't have to worry about customs or duties though, as you aren't charged any when ordering from Puma.com and shipping to Canada.
I sometimes wear caps… when I am cooking!! I've got long dark hair and I noticed that when I am cooking certain things, my hair can really pick up the smells and odours. I think I will christen one of my caps my "onion cap" – I only wear it when I am cooking onions! I bundle up my hair and tuck it into the cap, to keep the smell from getting in. That's probably the only time I wear a cap. :)
(Expires: 8th December 2014)