Pink Cherry: 59% off Lelo Christmas Edition Siri Vibe + Blindfold (NSFW)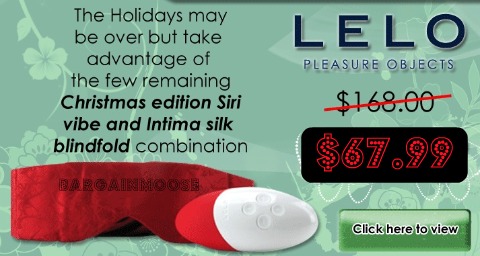 I am a mega, massive fan of Lelo products... I have tested quite a few different brands of products and Lelo makes phenomenal vibes... I just love them. Such greatness usually comes at a price tag, and Lelo toys are not cheap. Pink Cherry is offering 50% off this great combination, the  Christmas Edition Siri Vibe & Intima Silk Blindfold. Originally priced at $168, the discount brings this vibe down to $79.99. When you use the extra coupon code: VALENTINE you will get the vibe/ silk blindfold combo for only $67.99! That is actually 59% off it's original price!
Some info about the Lelo Siri: This is said to be the most powerful Lelo vibe of this type to date, it is fully rechargeable (no need for other batteries) and holds the charge for 4 full hours of play! It has a great shape... I have held one very similar and the shape is pretty much perfect for a woman's body. It has 6 different patterns, tons of speed variation and the buttons will lock for transportation... so your purse doesn't suddenly start vibrating! A lovely, lovely device. I've never tried a silk blindfold before though!