Penningtons Canada: Pants & Jeans 50% Off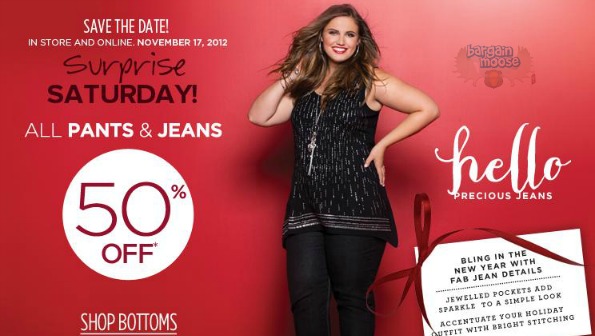 Penningtons Canada has another one of their "Surprise Sales" happening this weekend.  All of their pants and jeans will be 50% off the regular prices.
I have said this before, but I still think it is funny that they call these sales "surprise" sales because they not only send out an email about them beforehand, but they advertise them online as well. That aside, this is a great deal.
It seems like there are so many Christmas parties and events to attend in the winter, and I am someone that prefers to wear pants over a dress or a skirt.  This sale is perfect for my shopping needs because they are all 50% off.
Along with this deal, they still have all bras on sale for buy 1 get 1 40% off, and panties on sale at 5 for $25.  This is great because you can stock up on your favorite items and save.
There is a flat rate shipping fee of $7.50 for Penningtons, and the great thing is that you can order from AdditionElle as well and just pay the one shipping cost.
(Expiry: 18th November 2012)