Old Navy Canada: 77% Off The Sweetheart Distressed Skinny Jeans - Now $10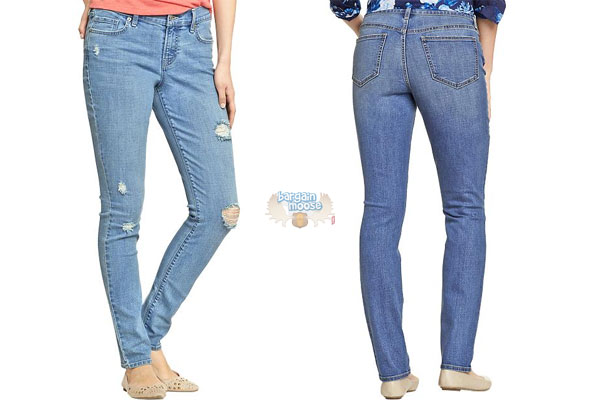 Hate overpaying for jeans? Then take advantage of Old Navy's amazing discount on the Sweetheart Distressed skinny jeans. Originally priced at $42.94, they are now on sale for just $9.99.
I never used to be a huge fan of skinny jeans but now I can't live without them. During summer days, I love wearing them with a loose top and a pair of sandals as I find the look more polished than, say, jeans with a wider opening at the bottom like the sweetheart boot-cut jeans. Speaking of which, they're also on sale and can be yours for just $16.99 (reg. $39.50). They're not available in all colour and size combinations, but the great part is that they also come in a tall or petite variation.
To get back to the sweetheart skinny jeans though, they come in a light blue colour, or glacier as Old Navy calls them, and feature a regular inseam. Various tears along the front of the legs create a distressed look and what I like about them the most is that they're slightly elastic. Elasticity in jeans is a big factor for me when picking skinny jeans as my calves aren't exactly of the skinny variety and I have a hard time fitting into these kind of jeans otherwise (another reason why I didn't wear any when they first came into style).
Since shipping is free on orders over $50, I suggest you have a look at the other categories for something you might like, especially since you can use the Old Navy promo code: ONSHOP to save an extra 15%. Keep in mind that this code isn't applicable on Everyday Steals (like the sweetheart jeans), Hot Deals or clearance items. Check out the Summer Clearance category for deals starting at 50% off. This strapless flower-print dress, for instance, is now just $9.99 from its original retail price of $39.04 (75% off).
(Expiry: Unknown)