Old Navy Canada: 25% Off for Teachers and Students (July 23 - 25)
Old Navy Canada posted about this special deal on their Facebook, and it has started to make the rounds. They are offering an exclusive deal to teachers and students: 25% off their entire purchase on July 23 to July 25, 2010 ONLY. This is an in-store deal (of course).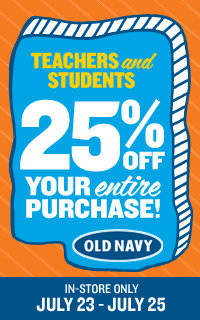 Here is what Old Navy says:
We love students and teachers! They'll receive 25% off their entire purchase, this Friday through Sunday only. Students—show your college or high school ID to receive your discount. Teachers, show your school ID or pay stub to receive yours.
This should be pretty easy to do, and we are giving you a day's heads up to find your student/teacher ID and dust it off! Being a student can be expensive so thank you to Old Navy, for giving the ol' pocketbook a break!