Old Navy Canada: $2 Tank Tops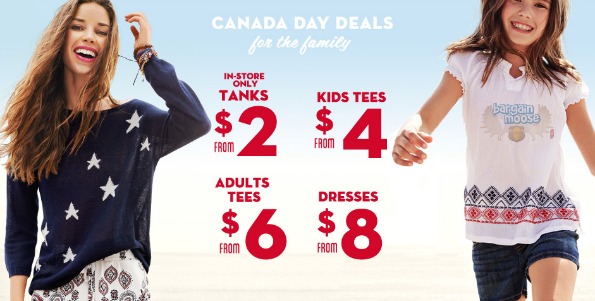 This week you were able to head into your local Old Navy Canada store and get flip flops for just $1.  Now, they have an equally great deal for us to take advantage of.  If you head into your local Old Navy Canada store for a limited time only, you will be able to get tank tops for just $2 each with their Canada Day Sale.
With this in store deal, it will be valid on men's, women's and kid's tank tops.  I was checking out some of the styles for the women's tanks and they have just about every single colour of the rainbow offered.  They also have thin straps and thick straps, so there is something for everyone's style and taste.
Tank tops are something that I like to buy a lot of because I get use out of them all year round.  I love to layer them in different colours and I even wear them in the fall in winter with a cardigan.  They are very versatile.
The $2 tank top sale is only valid in stores, but if you would rather shop from the comfort of your own home online, they have them for just $4.  That is still a really incredible deal. If you are shopping online, you will want to make sure to check out some of the other Canada Sale deals being offered.
They have kids and adult tees for just $4, dresses for just $8 and Canada day flag tees for just $4.  They even have bathing suits starting at just $12.84 for men and women. You can literally shop for the entire family for new summer clothes and save a bundle.
If you are shopping online, all orders of $50 or more will get free shipping.
(Expiry: Unknown)