50% Off Dresses TODAY ONLY + SUPER CASH @ Old Navy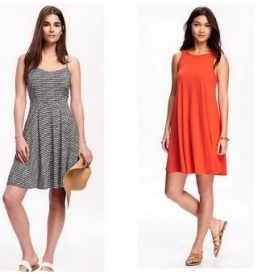 Today—and today only—is the perfect time to grab a dress (or several) at 50% off at Old Navy! Dress prices start at only $10! As if that weren't incentive enough, Old Navy is even throwing in Super Cash! Essentially, it means that for every $25 you spend, you will receive $10 back toward a future purchase from June 4 - June 12, in-store and on-line.
Spring means events, celebrations and dressing up a bit. Spring makes us feel like we are is coming out of our shell after hibernation, doesn't it? We even literally squint against the sunlight glare in our eyes. [Or is that just me? My dog crushed my sunglasses that I keep in the car.]
So, today only, for 24 hours, Old Navy is offering 50% off of select dresses in-store, and best yet—online! I have looked over the selection and the on-line selection is amazing! There are so many dresses to choose from! Take a look here:
This is such a versatile printed cami dress for only $17, down from $35. The black and white contrasting colour is bold, but not so bold as to hurt your eyes as we head into the summer hours with more bright daylight. If you don't like that pattern - there are 9 other patterns/colours to choose from!
This is the sweetest tiered dress in a light pink paisley pattern that has been marked down from $35, to only $10!
Here is a yellow striped pattern cami dress that's selling for only $13.50 from $35. Perfect for those hot days outside when you need something cool and refreshing to wear.
What an adorable clementine orange dress this is! Even though the colour is quite vivid, you can see it would be a perfect dress for casual to semi-casual attire. The best part is, this dress is on sale today only, for $14.50. The regular price was $30. There are 9 other patterns and shades to choose from.
At this point, you should probably just head over to Old Navy now, and find some fantastic dresses!
Shipping is free if you spend over $50. Otherwise, it starts at around $7.95 or so. If something doesn't fit you can return it in store or easier yet, use the prepaid return postage label that is sent with every order, for a full refund. If you need to exchange for a different size, you can phone them - they are so good about re-ordering for you, (you will be charged again at that point) but as soon as they receive your return, they will quickly credit you back so that you don't pay a dime. It is very convenient!

(Deal expiry: May 15, 2016)