Nuvango Coupon Code: 20% Off Leggings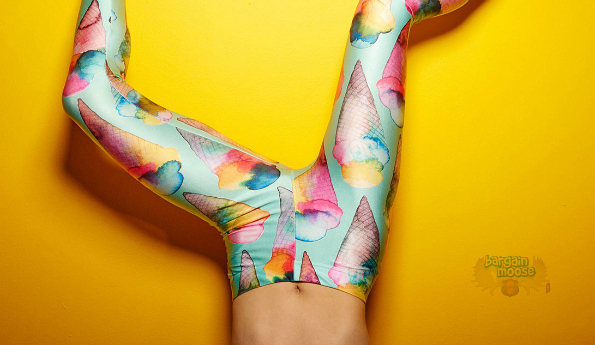 Nuvango has expanded their product range to include leggings! Get the same amazing art you have on your smartphone, tablet, or computer now on your legs! For the introduction of this new product range, receive 20% off all legging orders at Nuvango now.
Click here to shop leggings @ Nuvango now
Coupon Code: HOTLEGS
Discount: 20% off leggings
Expiry: 21st June 2015
I wear leggings ALL the time. When you have a 13" difference between your waist and your hips - jeans just do not fit. Leggings are stretchy little pieces of heaven that hug every curve! They are also glorious works of art for your legs. Without further ado, here are my favourite leggings.
Pocketfuls of Sunshine By Eleanor Lutz is my favourite design among the leggings. I am all for geometrical prints, especially when they mirror symmetry on the body. Both sides of the legs complement each other and you can only tell that the leggings are not all one piece of fabric at the seams. The colours are gorgeous and really make me think beautiful summer days with sandals, a flowing white tee, and sunglasses. These leggings cost $80 USD, but come down to $64 after coupon code. If you are familiar with Black Milk leggings, you will need to order about one size larger than your Black Milk size. I wear a large in Black Milk, but will need to order an extra-large in Nuvango.
For the technologically minded, these Motherboard leggings are a fantastic tribute to your tech side. Pair with a black t-shirt and chunky black boots for a complete outfit. There are plenty of other cool designs from many different artists at Nuvango.
Nuvango's leggings are made of a knit poly-spandex blend for durability and the perfect amount of stretch.
One thing does puzzle me about the Nuvango size chart. It gives the measurements for sizes extra-small through extra-large and yet sizes extra-small through XXL are available for purchase. Measurements are not given for the final size: XX Large. I am sure they will fix this soon.
All prices in US dollars and all orders are shipped via UPS. While Nuvango bills in USD, all Canadian orders are shipped from within Canada and GST/HST will be charged at checkout (no duty). Shipping depends on what you are order and where it is shipping. One pair of leggings cost only $6.75 for shipping to me.
For this and future Nuvango coupon codes, visit our busy coupon forum.