Noir Jacket II Was $128 | Now $69 + Free Shipping @ Lululemon Canada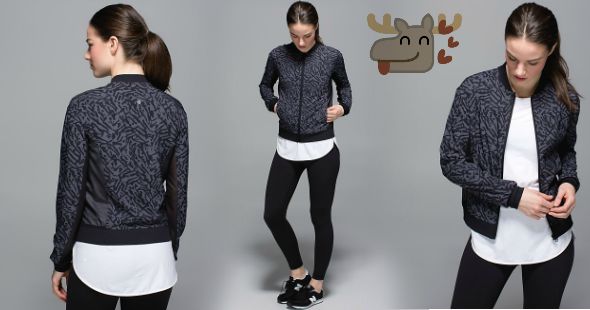 Cooler weather will soon arrive, and we don't want to wait until last minute to find a cute fall jacket, do we? Lululemon Canada has added an awesome item to their "We've Made Too Much Section" and you can grab this Noir Jacket II for an incredible price. This jacket was regularly $128 but at the current price of just $69 I wouldn't hesitate too long to add it to your shopping cart. Lululemon.com also has free shipping on all orders, with no minimum purchase.
I am a sucker for animal print, and that might be part of the reason that I love this Noir Jacket II so much. The other reason is the awesome price I am sure. It is not often that you can get a jacket of this quality from such a popular brand for such a low price. Usually when you find items for such a great price they are tacky looking, but this jacket looks stylish and I would wear it out for coffee, for a quick jog, or even while I am walking the dogs. Versatility in clothing is so important.
The Noir Jacket II is made of fabric that boasts a four way stretch, which means ultimate comfort no matter the setting. This fabric also happens to be sweat-wicking, so if you do get too hot your jacket won't stay damp or wet and uncomfortable. That is also partially due to the fact that this fabric is airy and lightweight which promotes an airflow. There are also mesh side panels so you can catch that breeze when your body is starting to get hot. If you jog a lot then you probably know what a pain it is to find somewhere to store your debit card in case you need to buy a drink on your run. This jacket has a cool hidden inner pocket for your cards or car keys. If you are having second guesses about this jacket, just read any of the 5 star reviews, since this jacket doesn't have any lower rating reviews.
I love Lululemon.com's shipping policy. No matter how much or how little you spend, you will get totally free shipping. That especially comes in handy when you want to buy a hairband on sale for $9 or something, but we are definitely not complaining that it applies to this Noir Jacket II.
(Expiry: Unknown)