NBA All-Star T-Shirts $15 + Free Shipping for Members @ Adidas!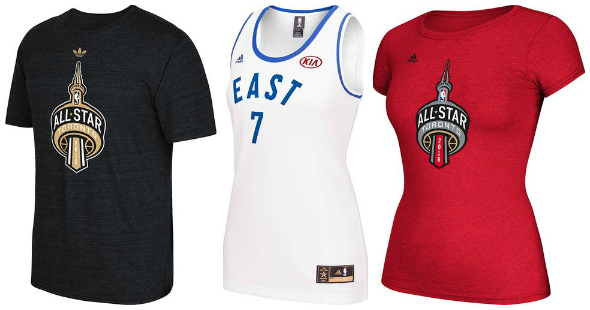 Whether you're an NBA fan or not, this past weekend was a big deal for Canada in general. Being the only professional basketball franchise remaining in the country, the Toronto Raptors have become 'Canada's Team' and last night two of our Raptors played in the 2016 All-Star game in Toronto - the first time ever the game has been held outside of the United States. Here's your chance to get a souvenir or two for half price as Adidas Canada has slashed the cost of all 2016 NBA All-Star merchandise! Plus, sign up for a free account at Adidas, remain logged in, and you will automatically receive free shipping.
The t-shirts for men and women are super affordable at just $15 and there are a few designs and colours for each. I like this one for women with the CN Tower and 'Toronto 2016' design, and they have the same design for men. For $14, there a few different styles of hats.
They've got East and West t-shirts for different players - though most of the really big names have already sold out - for $16. Also for $16, I love the design on this particular Triblend Tee.
Jerseys for women are $40 and there are still some East team remaining for Raptors Kyle Lowry and Demar Derozan! Men's jerseys are $60 but there are only a few left and, sadly, no Raptors.
Hurry over to Adidas before everything sells out to get some commemorative merchandise. But let's hope it's not another 40 years before we see an all-star game again!
(Expires: Unknown)